Winter is approaching at lightning speed. There are several things that need to be done to ensure that your vehicle is prepared for it and you can avoid a break down. Before the snowflakes begin to fall schedule a vehicle service now.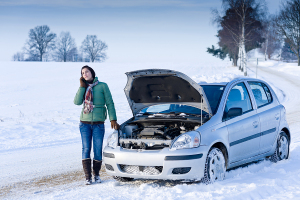 The things that are included in a vehicle check up include:
1. Check your battery to ensure it has the proper voltage, the battery cables are not loose, and the battery case is not cracked and compromised.
2. Check the cooling system. Make sure the appropriate amount and type of coolant is in the vehicle. Check for leaks or worn hoses and it is recommended to have the system flushed periodically to remove dirt and rust particles.
3. Fill your windshield washer reservoir with high quality "no-freeze" fluid and make sure the system works properly. It is wise to keep an extra bottle in your vehicle.
4. Check the windshield wipers and ensure the blades are not worn and that the system works correctly.
5. Check your defrosters both front and rear. Defrosters are highly important to getting the best visibility possible.
6. Check your floor mats. Floor mats when not installed properly can be jammed underneath the pedals of the vehicle increasing the risk of a crash.
7. Inspect your tires. Make sure they are properly inflated to vehicle specifications and that they have the appropriate tread depth. It is also imperative to check the age of your tires. Older tires will crack and are more susceptible to blow outs
8. Most importantly make sure to stock your vehicle. Always have on hand a snow shovel, broom and ice scraper, sand or kitty litter to assist you if your vehicle gets stuck in the snow, jumper cables, flashlight with extra batteries, flares or warning markers, blankets to keep you warm, your cell phone and car charger, water, and emergency food in the event you get stranded in the cold.
Being prepared is the best thing you can do to avoid a tragedy in the winter. Check over your entire vehicle and protect yourself and your loved ones by being overly cautious and diligent.