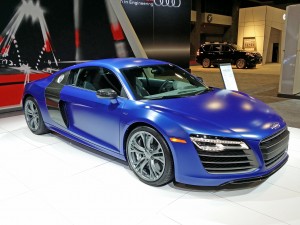 The German Audi R8 is a mid-engine, 2-seater sports car was built off of the Audi Le Mans Quattro concept car designed by Frank Lamberty and Julian Hoenig. The Audi R8 was designed, developed and manufactured by the Audi AG's high performance subsidiary company. Based off of the Lamborghini Gallardo platform, the Audi R8 contains attributes of the fundamental construction techniques of the Audi Space frame.
The Audi R8 uses aluminum in their space framing techniques to create a framework that is light but stable. The Audi R8 features the Quattro permanent all-wheel drive system, a trademark of the Audi brand.
The Audi R8 was officially launched at the Paris Auto Show in September of 2006 the Audi R8 made quite the first impression. The Audi R8 is equipped with a 4.2 liter V8 engine that utilizes an aluminum alloy 32-valve engine. In addition to this the Audi R8 has cylinder-direct fuel injection known as fuel stratified injection. The unique set up of the 4-wheel drive system allocates 30% of its power to the front and the remaining 70% to the rear.
Beautifully created the Audi R8 will get its driver close to warp speed. Many variations have come to the market since its release but the Audi R8 will remain a remarkably built vehicle.