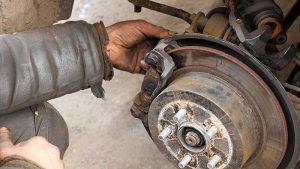 Why is there a need for yet another article on doing a brake job? Well, to answer your question, in today's article we will give you the steps to help you solve issues you may be having with your brakes that are actually more common than you might think, on today's vehicles. We will also be giving you professional advice and tips that our highly experienced technicians have learned throughout their many years of working in the automobile industry, that we have also been implementing at our shop for many years.
We hope that this article helps you whether you're a technician, driver, do-it-yourselfer, or just someone studying up about your vehicle before you bring it into an auto service shop, these steps and tips will help you make proper decisions the first time around when it comes to brake repairs on any automobile that you may be either driving or working on.
One of the first questions you should start by asking yourself is why your automobile may need a brake repair in the first place. Even if you are not a highly experienced automobile technician, no matter what level you may be at, whether it be a beginner, intermediate, or pro, we believe it's important to discover why your vehicle may need a repair, whether it be for brakes, or anything, from the beginning.
If you are aware that your vehicle may need brake repairs due to previous brake inspection and have confirmed or had confirmed by a highly experienced technician that the thickness on your brake pad is low (if your brake pad is under 2 mm it is considered 'critical')  then the reason may be more obvious. In this instance, hopefully, you will find this article to be full of, basic instructions, as well as both tips and tricks to make the job much easier and faster.
However, if this isn't your situation, and you are considering replacing your brakes because of something like either a vehicle pulling left or right while braking, brake pedal pulsation, or even a brake pedal too soft or too low, then you most certainly need to read this article. We say this because replacing your brakes may resolve the issue, however, if you are unclear of the real underlying problem, or just generally don't understand the problem from the beginning, you could potentially only be treating a symptom of why your brakes are not working, which could become both a waste of time, but also a waste of money in the process, which would most likely make you soon re-consider your brake replacement.
Below are steps to identify, as well as attempt to resolve problems or issues that you may be facing with your brakes.
Auto Repair Brake Job Supported
Brake Rotor Hot Spots
Glazed Disc Brake Pads
CALIPER AND ROTOR REMOVAL

Brake Caliper Compression Tool
Brake Pad Retainer Clips and Shims
GROOVED BRAKE ROTOR CHANDLER
ROTOR RUNOUT

Brake Rotor Run-out
Back Side of Rotor
BRAKE PAD REMOVAL INSPECTION
CHOOSING THE RIGHT BRAKE PAD
CLEAN UP AND LUBRICATION TIPS

Lubricate Brake Slide Pins
INSTALLATION STEPS

Brake Pad Installation
Brake Master Cylinder
Whether throughout this process, you did it yourself, or again, were just studying up before taking your vehicle to a highly experienced Maryland auto service shop, you definitely deserve a pat on the back. We sincerely hope this article helped either resolve any issues you were having with your brakes or just gave you general knowledge about the steps that are taken when resolving brake issues. We pride ourselves on using the best equipment and getting any issues you may be having with your vehicle, resolved promptly and properly.
If you're still asking yourself "Why should I choose your shop?" Well here are a few advantages of using our business.
Fast – same day service, always our goal.
Honest – do only the work necessary.
Professional – ASE Certified Master Technicians.
On Site Owner – you can talk to.
Priced Right – highly competitive pricing for the most respected service in town.
Convenient – free courtesy rides.
Extended Warranty Work – encouraged and accepted.
100% Customer Satisfaction – our most important goal.
No Surprises – on your bill. All prices must be approved by you before any work is done.
Work Done Right – the first time.