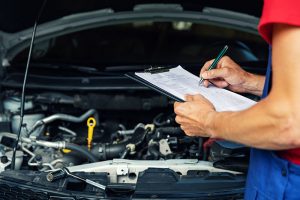 Cars help us with so many things in our everyday lives. While, of course, we don't want anything to happen to our car, we have to face the facts, cars don't last forever. However, it is our job to make sure we are properly taking care of them to increase the longevity for them. One way to do this is to fix problems to avoid bigger issues in the future. In this article today we will be telling you about some signs your car may be showing that it has an issue so you can fix the minor problem before you need a major repair.
Smoke
Blue Exhaust Smoke – This means your car is leaking oil. Leaking oil can develop into an extremely expensive repair. Even if it's only for a short period, if your oil level is low, you could potentially blow a head gasket, which would turn into needing either an engine replacement or even a complete engine overhaul.
White Exhaust Smoke – This could indicate either condensation escaping or a cooling system leak. The cooling system does much more for your car than you may realize. One extremely important thing that the cooling system does, protects your engine from overheating. If your automobile could be in need of a cooling system repair, have it checked out by a highly experienced Maryland auto service center as soon as possible! White smoke, engine overheating, and cooling system leaks could possibly lead to your head gasket failure, which would require engine repair.
Black Exhaust Smoke – This could be from either engine problems or leaks in engine seals. It is extremely important that you bring your car or truck to a trustworthy local mechanic shop to have it evaluated, so you understand the nature and severity of the engine problems.
Fluid Leaks
It is vital that you check under and behind your car regularly for pools or puddles from an automotive system leak. If you do see any liquid, you should examine these things: the color, smell, viscosity, as well as the location so you can properly describe it to your local Maryland mechanic to help with not only a fast diagnosis but also a correct diagnosis.
If the leak you are experiencing is clear in color, odorless, and under your vehicle, then it is most likely water and not a cause for concern. It is most likely, more specifically, condensation that builds up on your auto cooling system condenser.
If the leak you are experiencing is clear or light yellow to brown fluid, that is slick to the touch and has an odor of either fish oil or castor oil, it is most likely brake fluid. This kind of leak may seem harmless; however, it is a major safety issue. Brake fluid is used to provide pressure that your vehicle needs in order to stop. If you choose to ignore this leak, it could potentially lead to complete brake failure, which not only endangers you but also endangers anyone else around you!
If the leak you are experiencing is thin light yellow to reddish-brown fluid, and the leak is located under the front of the vehicle, it is most likely power steering fluid. The fluid for your power steering looks very similar to fluid from your transmission, to distinguish which is which between the two, you should pay very close attention to the location of the leak. This leak could also potentially be extremely dangerous, because as the power steering fluid lowers, steering and turning your vehicle will become increasingly difficult, and eventually you may not be able to control the steering of your wheel at all.
If the leak you are experiencing is thin red or thick brown fluid, and the leak is located near the middle of the car it is most likely automatic transmission fluid. Fluid from the transmission typically has an odor of petroleum, an exception of this is if the transmission has not been serviced regularly if this is the case the fluid might smell burnt. If you are experiencing this type of leak it is imperative, you have the leak checked out by your local Maryland transmission repair mechanic shop as soon as possible.
If the leak you are experiencing is amber brown to black and leaks under the vehicle, it most likely an engine oil leak. A leak from your engine could either be a minor issue or it could potentially be an extremely serious issue. It is vital that you are regularly checking the oil level, as well as have an engine repair mechanic examine your leak to properly determine how severe the leak may be. In the case that your engine oil becomes too low for even a short period of time, you could potentially have to completely replace your engine in order to repair your vehicle!
If the leak you are experiencing is green, yellow, or pink fluid, that is slimy and has a sweet odor, it is most likely coolant from the radiator. It is extremely common to coolant dripping from a vehicle that is a bit older, especially if the engine gets too warm. However, newer models of cars and trucks are made to recycle or reuse the coolant that blows off. If you notice a coolant leak, especially on a newer model of a vehicle, it could be a sign that there is an issue. You should regularly check the level of coolant your vehicle has, as well as keep up with the maintenance your cooling system requires to prevent or avoid overheating.
Now that you are aware of signs you should be on the lookout for with your vehicle, you can assess them, and decide if you should stop in Agape Auto Service to have your automobile checked out or repaired.
If you're still asking yourself "Why should I choose your shop?" Well here are a few advantages of using our business.
Fast – same day service, always our goal.
Honest – do only the work necessary.
Professional – ASE Certified Master Technicians.
On Site Owner – you can talk to.
Priced Right – highly competitive pricing for the most respected service in town.
Convenient – free courtesy rides.
Extended Warranty Work – encouraged and accepted.
100% Customer Satisfaction – our most important goal.
No Surprises – on your bill. All prices must be approved by you before any work is done.
Work Done Right – the first time.