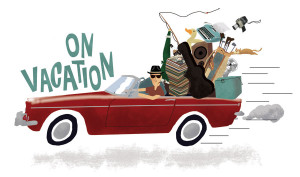 Going on vacation is supposed to be a joyous time, a time where you can unwind from the daily grind and reconnect with your loved ones. Don't get caught with a broken down car and a ruined vacation. Follow this vacation preparation guide and be on the road to happy memories:
Check under the Hood: a lot of this can be done at home while referencing your owner's manual but if you are unsure an automotive technician can do it for you.

A month or so before your trip make sure all maintenance is up to date. This includes oil changes, brakes, transmission flushes etc. Also, take your car to an automotive technician so they can access the wear on the belt and hoses on your vehicle. They can also test your battery to ensure it is installed properly and charged. If you are traveling in the summer or will be encountering hot temperatures it is prudent to have your air conditioning system checked and charged. Lastly, check the tread on your tires and ensure they do not have dry rot.
A week before your trip check vital fluids: this includes oil, coolant, transmission fluid, brake fluid, power-steering fluid, and windshield washer fluid. If any of these are low check your owner's manual for the proper fluids to put into your vehicle. It is also wise to put a piece of cardboard under your car let it run for ten minutes and then note if any fluids are leaking. If they are take it to an automotive technician.
The day you leave for your trip check the vital fluids one last time.

Outside the car: Make sure that you tires have the correct tire pressure.
With this pre-trip guide you can reduce the chances of having a "broken down on the side of the road" vacation. Instead you can confidently go the distance to your vacation destination. Here's to safe driving!